Manny Pacquiao vs. Ricky Hatton
March 25, 2009
1 Comment
Posted by

Gee
Manny Pacquiao vs. Ricky Hatton
Emmanuel Dapidran Pacquiao born December 17, 1978, known as Manny "Pac-Man" Pacquiao is a professional Filipino boxer. He is the former WBC lightweight world champion, WBC super featherweight world champion, IBF super bantamweight world champion, and WBC flyweight world champion. He has also held the Ring Magazine titles for featherweight and super featherweight. For his achievements, he became the first Filipino and Asian boxer to win four world titles in four different weight divisions. He is currently rated by the Ring Magazine as the #1 pound-for-pound boxer in the world.
Personal life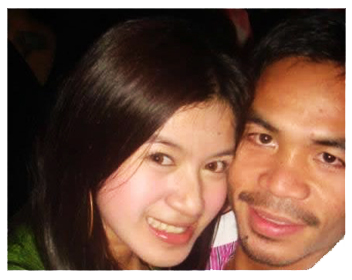 Pacquiao was born in Kibawe, Bukidnon, Mindanao and currently resides in his home town General Santos City, South Cotabato, Philippines. He is married to Jinkee Pacquiao and they have four children.
Pacquiao's Boxing career
1st fight with Barrera
Pacquiao went on to defend his title four times with expert training from Freddie Roach at the Wild Card Gym, improving his hand speed and mental preparation before the match that many consider to have defined his career, a bout against Marco Antonio Barrera. Pacquiao, moving up in weight and in his first fight ever in the featherweight division, brought his power with him and defeated Barrera via a TKO in the 11th round at the Alamodome, San Antonio, Texas. Although this fight was not recognized as a title fight by any sanctioning bodies, Pacquiao was recognized as world champion by Ring Magazine after his victory, and he held that title until relinquishing it in 2005.
1st fight with Marquez
Only 6 months removed from his win over Barrera, Pacquiao went on to challenge another respected Mexican counterpuncher, Juan Manuel Márquez, then holder of the World Boxing Association (WBA) and International Boxing Federation (IBF) Featherweight titles.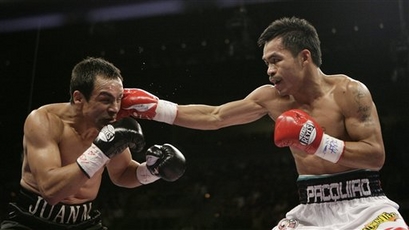 The fight held at the MGM Grand ended in a controversial draw after he knocked down Márquez three times in the first round but lost most of the latter rounds. One of the judges later admitted to making an error in the scorecards because he scored the first round as "10-7" in favor of Pacquiao instead of the standard "10-6" for a three-knockdown round.
1st fight with Morales
Manny once again moved up another division from 126 to 130 lbs to fight another Mexican legend, three-time division champion Érik Morales on March 19, 2005, at the MGM Grand. However, this time around, at his first fight in the superfeatherweight division, Pacquiao lost the 12-round match by a unanimous decision from the judges.
WBC International Super Featherweight Title
On September 10, 2005, Manny Pacquiao knocked out Héctor Velázquez, capturing the WBC International Super Featherweight title in the process, in a fight held at the Staples Center in Los Angeles, California.
2nd bout with Morales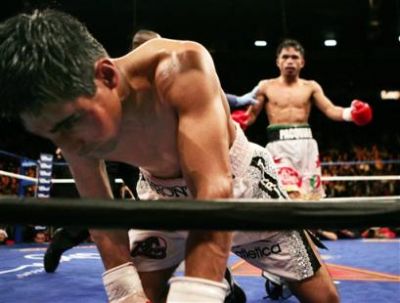 Pacquiao defeated Morales via a 10th-round KO in a much-anticipated rematch on January 21, 2006 in Las Vegas at Thomas and Mack Center.
Oscar Larios
On July 2, 2006, Pacquiao defeated Oscar Larios, a two-time super bantamweight champion who had moved up two weight divisions in order to face Pacquiao.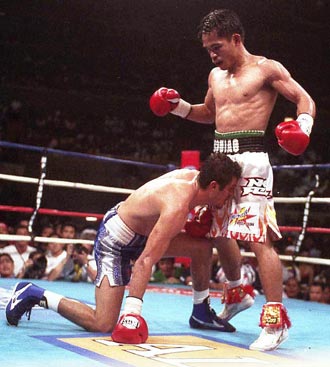 Despite his camp's big promise of an early knockout, the fight went until the final round, with Pacquiao knocking down Larios two times during the 12-round bout for the WBC International Super Featherweight title held at the Araneta Coliseum in Quezon City, Philippines.
Final bout with Morales
Pacquiao and Morales fought for a third time (with the series tied 1-all) on November 18, 2006. Witnessed by a near-record crowd of 18,276, the match saw Pacquiao defeating Morales via a third-round knockout at the Thomas & Mack Center in Las Vegas.
After the Pacquiao-Morales rematch, Bob Arum, Pacquiao's main promoter, announced that Manny returned his signing bonus check back to Golden Boy Promotions, signaling intentions to stay with Top Rank. This resulted in GBP's decision to sue the famed fighter over contractual breaches.
At the end of 2006, he was named by both HBO and Ring Magazine as the "Fighter of the Year", with HBO also naming him as the most exciting fighter of the year.
Jorge Solis
After a failed promotional negotiation with Marco Antonio Barrera's camp, Bob Arum chose Jorge Solis as Pacquiao's next opponent among several fighters that Arum offered him to fight as a replacement.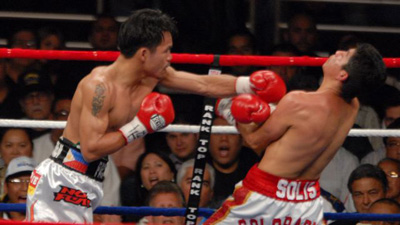 The bout was held in San Antonio, Texas on April 14, 2007. In the sixth round of the bout, an accidental headbutt occurred, giving Pacquiao a cut under his left eyebrow. The fight ended in the eighth round when Pacquiao knocked Solis down twice; with Solis barely beating the count after the second knockdown, the referee (who was also a doctor) was prompted to stop the fight. The victory raised Pacquiao's win-loss-draw record to 44-3-2, with 34 KOs.
2nd bout with Barrera
On June 29, 2007, it was announced that Top Rank and GBP agreed to settle their lawsuit, meaning the long-awaited rematch with Marco Antonio Barrera will occur despite being the #1 contender for the super featherweight title of Juan Manuel Márquez.
Since Bob Arum was out on a vacation, GBP's chief executive Richard Schaefer politely declined to discuss Pacquiao's purse from the October 6, 2007 rematch with Marco Antonio Barrera (at the Mandalay Bay Resort Hotel and Casino in Las Vegas). However, Pacquiao was likely to get a purse of $5 million, plus possibly a share of the pay-per-view rights. Pacquiao defeated Barrera in their rematch via an easy unanimous decision. In the 11th round, Pacquiao's punch caused a deep cut under Barrera's right eye.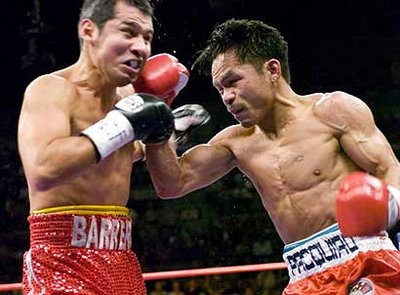 Barrera retaliated with an illegal punch on the break that dazed Pacquiao but also caused the referee to deduct a point from Barrera. Two judges scored the bout 118-109, whereas the third scored it 115-112.
Rematch with Marquez
On March 15, 2008, in a rematch against Juan Manuel Márquez called "Unfinished Business", Pacquiao won via a disputed split decision in a close, hard fought battle in which Pacquiao knocked Marquez down in round 3. Pacquiao won the WBC and The Ring super featherweight belts, making him the first Filipino to win three world titles in three different weight divisions (Pacquiao was a former WBC flyweight champion and former IBF super bantamweight champion).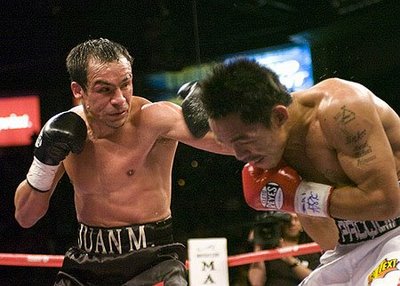 During the postfight interview, Marquez's camp called for an immediate rematch. Richard Schaefer, GBP CEO, offered a $6-million guarantee to Pacquiao for a rematch. Pacquiao's promoter, Bob Arum, still stinging from the less-than-stellar revenue from Kelly Pavlik's immediate rematch with Jermain Taylor, said the fight will probably happen but only after there is time to "put a little air under it." Pacquiao, for his part, said "I don't think so, this business is over" because he planned to move to lightweight (135 lbs) to challenge David Díaz, the reigning WBC lightweight champion at that time. Diaz won the majority decision over Ramon Montano that night as an undercard of the "Unfinished Business" fight.
WBC Lightweight Championship
On June 28, 2008, at the Mandalay Bay Resort & Casino in Las Vegas, Pacquiao defeated David Díaz via ninth-round knockout to become the WBC lightweight champion. With the victory, Pacquiao became the only Filipino and Asian boxer to win four major titles in four weight classes and also became the first Filipino fighter to ever win a world title at lightweight. The fight ended at 2:23 of the ninth round and was viewed by 8,362 spectators. Bob Arum announced that Pacquiao is most likely to fight November 15 versus 130-lb Venezuelan champion Edwin Valero or Humberto Soto in Planet Hollywood, and he also mentioned the name of WBA, WBO, and IBF lightweight champ Nate Campbell. "I can fight in November," Pacquiao stated, "Who I fight is the job of my promoter (Bob Arum)." Diaz had his best payday, $850,000, and Pacquiao earned at least $3 million.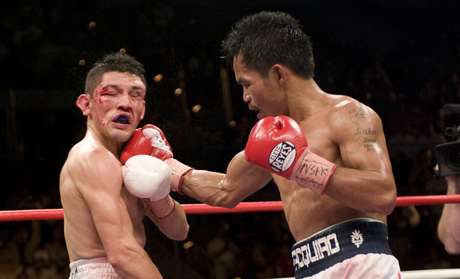 Bob Arum reported that the Pacquiao-David Diaz fight which made $ 12.5-M (250,000 pay-per-view hits at $ 49.95 per hit), paled in comparison to the 400,000 in the Marquez showdown. The sales reached over $20 million. Pacquiao's 3 classic fights with Erik Morales earned a combined sales of 1 million pay-per-view hits. After HBO and Top Rank get their share, Pacquiao and Diaz will get theirs based on the contract, that is, in addition to the $ 3 million contract pay. Official records revealed an attendance of only 8,362 tickets of the seating capacity of 12,000.
Meanwhile, WBC president Don José Sulaimán clarified that Pacquiao is not a 5-division but 4-division world champion, because the November 2003 Barrera fight was a non-title bout.
Holding both the WBC Super Featherweight and Lightweight titles following the win, Pacquiao decided to vacate his super featherweight title in July 2008 in order to defend his lightweight crown.
The Dream Match (Pacquiao vs. De La Hoya)
On December 6, 2008, Pacquiao faced Oscar De La Hoya at the MGM Grand Hotel in Las Vegas, Nevada, in a fight called Dream Match. Pacquiao asserted himself over De La Hoya from the first round till the eighth round. De La Hoya's corner threw in the towel before the start of the 9th round. Pacquiao won via technical knockout.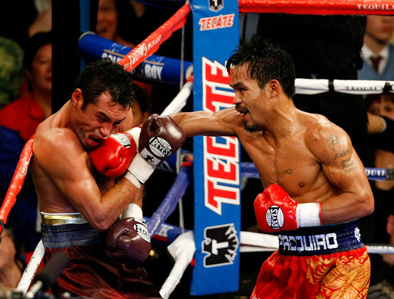 Presented by Golden Boy Promotions and Top Rank, Inc., the bout was scheduled as a 12-round, non-title fight contested at the 147-pound welterweight limit. Although Pacquiao went into the fight widely recognized as the leading pound-for-pound boxer in the world, some boxing pundits had speculated that 147 pounds could be too far above his natural weight against the larger De La Hoya.
Pacquiao received $15 to 30 million (share of the pay-per-view), plus a guaranteed amount.
Tickets reportedly sold out just hours after they went on sale. The total gate revenues were said to be nearly $17 million dollars. That amount apparently gave the bout the second largest gate revenue in boxing history.
Pacquaiao vs. Hatton
On May 2, 2009, Pacquiao is set to battle Ricky Hatton for the latter's IBO and Ring Magazine Light Welterweight titles. Since the Wembley Stadium in the United Kingdom had been rejected as the venue for this championship bout, it would be held in the United States at MGM Grand Hotel and Casino in Las Vegas, Nevada.
The fight was placed in jeopardy due to disputes with both camps over the fight purse money. Pacquiao wanted a 60-40 share while Hatton insisted on an equal 50-50 share, but later offered Pacquiao a 52-48 split. Arum believed that Hatton's popularity in the sport will bring enormous pay-per-view revenue, which other fighters would not be able to contribute.
On the other hand, Pacquiao's astute trainer Freddie Roach argued that a 60/40 share was fair for his ward because Pacquiao just destroyed De La Hoya, while Hatton was knocked out by Floyd Mayweather Jr. However, Hatton and his camp believed he deserved a more even split as he was the reigning Ring Light Welterweight champion, a division in which he remains undefeated, and a large draw in the U.K.. If the fight with Hatton would not materialize on a 55/45 share, which should favor Pacquiao, Roach stated that they would look into either fighting Mayweather, Venezuelan knockout artist Edwin Valero or even Pacquiao's rugged arch rival Juan Manuel Marquez. Meanwhile, Hatton's lawyer threatened to file a suit against Pacquiao if the Filipino fighter backed out of a "verbal contract" for a 50-50 split in earnings for their superfight.
Since Pacquiao had not signed off on the fight contract and had not accepted the 52-48 share that Bob Arum renegotiated with the Hatton's camp, the mega fight was officially scrapped. Both Arum and Roach stated that they were unable to contact Pacquiao during the final days of negotiations. Roach was quoted as saying that "a $12 million guarantee today is unbelievable" and that he hoped Pacquiao "comes to his senses". Arum even speculated that the world's best pound for pound warrior might just have to sit out for the remainder of the year.
The already scuppered mega fight between Manny Pacquiao and Ricky Hatton had been resurrected, after Pacquiao confirmed that he had changed his mind and had signed the fight contract. Bob Arum, Pacquiao's promoter, was jubilant about the decision of Pacquiao to pursue his fight with Hatton, and even went on record and proclaimed that his boxer (Pacquiao) would receive an unprecedented $20 million for this junior welterweight mega fight.[44] This super fight has a great chance of breaking pay-per-view records, revenue wise, due to the massive boxing fans from UK who would be rooting for their countryman Ricky Hatton, and of course, the charisma and drawing power of the pound for pound King Manny Pacquiao in the international realm.
HBO would air the fight between Pacquiao and Hatton on May 2, 2009. The most recognized pay-per-view infrastructure would present 24/7 series for both gladiators leading up to their junior welterweight showdown at MGM Grand Hotel and Casino.
Richard John Hatton MBE, more commonly known as Ricky "the Hitman" Hatton, (born 6 October 1978, in Stockport, Greater Manchester, England), is a British professional boxer is a two-time IBF and IBO light welterweight champion, having relinquished the IBF belt, only to step back down to the weight class and beat Juan Urango.
He was the WBA Welterweight Champion, but relinquished this title on 31 August 2006. Hatton is also the former WBU, WBA Light Welterweight Champion and WBC, WBA, WBO Inter-Continental Light Welterweight Champion, and current Ring Magazine Junior Welterweight Champion.
Biography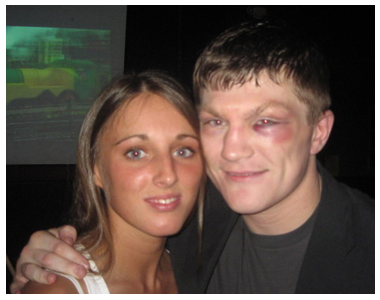 Born in Stockport, Greater Manchester, Hatton was raised on the Hattersley council estate in Hyde, Greater Manchester and trained at the Sale West ABC on the Racecourse Estate. He was educated at Hattersley High School.
Both his grandfather and father played for Rochdale, and Ricky had a trial for the youth team. But Hatton found a local boxing club in Hyde, which he still trains at, and found he enjoyed the sport.
Hatton's entrance music is the Manchester City club song "Blue Moon" as performed by the band "Supra." Aged 14, Hatton was taken by his uncles Ged and Paul to Manchester United's Old Trafford stadium to watch the second fight between Nigel Benn and Chris Eubank.
Hatton joined the family carpet business on leaving school, but after he cut four of his fingers with a Stanley knife, his father made him a salesman to prevent him from losing his fingers.
Ricky Hatton Boxing career
Hatton's debut fight was on 10 September 1997 against Colin McAuley in Widnes at Kingsway Leisure Centre (he won by a KO in 1), while in his second fight Hatton boxed at Madison Square Garden in New York.
Fight against Kostya Tszyu
On 5 June 2005 Hatton beat Kostya Tszyu, then widely regarded as one of the top pound-for-pound boxers in the world by a technical knockout after the Australian failed to answer the bell for the 12th round. Hatton was a heavy underdog for this fight, and the victory announced his entry to the upper echelons of the world boxing scene. Prior to the fight the majority of boxing critics had given Hatton little or no chance and this victory was regarded as one of the best victories by an English boxer in the last 20 years. On 26 November 2005 Hatton won the WBA title when he defeated Carlos Maussa in the ninth round of a unification bout. In December, Hatton was named the 2005 Ring Magazine Fighter of the Year.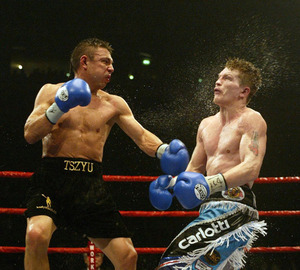 Hatton relinquished his IBF belt on 29 March, 2006 after refusing to fulfil a mandatory defence against number one contender Naoufel Ben Rabah, because he intended to move up to the welterweight class. Hatton signed a three fight contract with Dennis Hobson's fight academy after splitting from long time promoter Frank Warren. The three fights would take place in the United States.
Moving to Welterweight
Hatton moved up a division to meet American Luis Collazo for the WBA Welterweight crown which took place on 13 May 2006. Hatton won the WBA crown from Collazo but struggled with Collazo's slick south-paw style and the extra weight. Hatton started well, knocking Collazo down in the very first few seconds of the first round, but it turned out to be one of the toughest fights of his career, with some boxing analysts believing Collazo won the fight, although many also thought Hatton had done enough early on in the fight to secure victory, with the knock down a pivotal point in the fight.
Back to Light Welterweight
Hatton's first fight back at Light Welterweight was against the current IBF Light Welterweight Champion Juan Urango on January 20, 2007 in Las Vegas, Nevada. Hatton's promoter Dennis Hobson stated that the impetus for moving back down was to set up a fight with Jose Luis Castillo, a fighter who nearly beat Floyd Mayweather Jr. at Lightweight in 2002.
Sister project     Wikinews has related news: Ricky Hatton regains IBF Light Welterweight Title
Hatton ended up winning a 12 round unanimous decision against Urango, to re-capture the unified IBF and IBO Light Welterweight titles. He won all but one round on all three judges' scorecards. Castillo, who was on the undercard, also won (via split decision), setting up their long-awaited fight.
Hatton was forced to relinquish his IBF title again on 10 February, to be able to fight Castillo. The fight was held on Saturday, June 23, 2007, at the Thomas & Mack Center in Las Vegas, Nevada. In round four, Hatton landed a "perfect" left hook to the liver, which put Castillo to the canvas. Ricky later claimed that 4 of Castillo's ribs were broken with this one punch. Unable to stand up, Castillo was counted out for the first time in his career.
Return to Welterweight
Hatton vs. Mayweather Jr.
Hatton agreed to terms on Friday July 27, for a December 8, 2007 welterweight fight with Floyd Mayweather Jr which was considered to be the biggest welterweight fight since the 1999 clash between Oscar de la Hoya and Puerto Rican legend Felix 'Tito' Trinidad. The MGM Grand Garden Arena in Las Vegas was announced as the venue on August 17, 2007. The fight was agreed to less than three months after Mayweather had said he planned to retire following a victory over Oscar De La Hoya.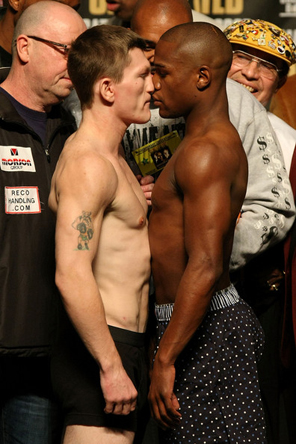 Hatton was able to bring the fight to Mayweather in the early rounds. In the 1st round Hatton caught Mayweather with a left jab which knocked Mayweather off balance. His constant pressure appeared to make Mayweather uncomfortable at first. In the third round, Mayweather landed a right that cut Hatton above the right eye. In round six, referee Joe Cortez took a point away from Hatton after he appeared to hit Mayweather on the back of the head while Mayweather was rested between the ropes. However, the punch was revealed to have hit the rope rather than Mayweather's head but Hatton was warned for punching behind the head on numerous occasions before the deduction. Hatton became angry at the referee's decision to deduct a point from him and turned his back on him in frustration. Hatton would later claim that he had become angry by the referee and that had caused him to lose his calm and contributed to his downfall. Hatton was able to hold his own, until round eight, when Mayweather began to adapt to Hatton and started counterattacking. Mayweather knocked Hatton to the mat in Round 10. Hatton got up, but Mayweather quickly resumed his attack, resulting in Joe Cortez putting a stop to the fight, and Hatton's corner threw in the towel. Mayweather commented post-match that "Ricky Hatton is one tough fighter. He is still a champion in my eyes and I'd love to see him fight again. "Ricky Hatton is probably one of toughest competitors I've faced. I hit him with some big ones but he kept coming and I can see why they call him the 'Hitman'." The fight received large amounts of publicity, with both fighters promoting the fight heavily.
Back at Light Welterweight
Hatton vs. Lazcano
On 24 May 2008, Hatton beat Mexican Juan Lazcano by unanimous decision with scores of 120-110, 120-108 and 118-110, in front of his home crowd of 55,000 (a post-World War II record for a boxing match in Britain), at City of Manchester Stadium to retain The Ring Magazine and IBO light welterweight titles.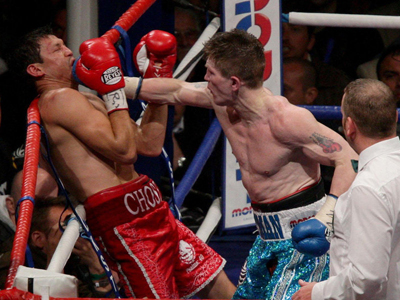 Hatton did well when he boxed and controlled the range, utilizing his jab and dominating a lot of the early exchanges. In round eight, Hatton absorbed a left hook to the chin that wobbled him, and in round ten, Hatton was hurt again by a left hook. Despite that, Hatton outworked Lazcano to win at least ten of the rounds.
Hatton vs. Malignaggi
Ricky Hatton fought Paulie Malignaggi of the United States at the MGM Grand, Las Vegas on 22 November for Hatton's IBO Light Welterweight title and Ring Magazine Light welterweight title.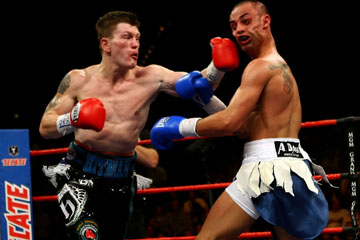 He was trained for the fight by Floyd Mayweather, Sr.. Hatton dominated for all of the fight and defeated Malignaggi by 11th-round TKO when Malignaggi's trainer, Buddy McGirt, threw in the towel 48 seconds into the round.
Floyd Mayweather Sr.
Floyd Mayweather Senior has revealed he may have to quit because of ill health. Mayweather has a lung disease called sarcoidosis, which he says has got worse over the last few years. The dusty, dry heat of Las Vegas worsens his condition and he has returned home to Michigan to convalesce following his seven-week training camp with Hatton for his fight with Paulie Malignaggi. Mayweather, 55, coughs every few seconds and after trying to treat his condition with steroids, now uses herbal remedies and ointments.

"It's tough and I don't see me carrying on for another two years," he said. "If you don't find something that works for you, you're going to have a bad day. It can attack you at any time. I'm training these fighters and exercise is good. But it seems the more I exercise, the worse my lungs get."
Hatton vs. Pacquiao
Hatton will fight Manny Pacquiao on 2 May at the MGM Grand in Las Vegas, the fight will be at light welterweight which will be the 5th weight category Pacquiao has fought at, and is the weight at which Ricky has never been defeated.